[Contents]
Conference Overview
The Conference Committee and the Local Organizing Committee in the Philippines welcomed the participants with an excellent arrangement for the success of the Conference. The Conference provided all participants with great oportunities to enrich their professional knowledge and to be inspired by the history and nature in Cebu.The 11th EASTS Conference was held from 11 to 14 September, 2015, in Radisson Blu Hotel Cebu, Cebu City, Philippines. The Conference on the theme of "Resilient and Inclusive Transportation Systems through Smarter Mobility" attracted 541participants including 132 students and had 377 oral and 98 poster presentations covering all fields of transportation studies.
For detail about the academic and practical papers, please see the website of International Scientific Committee (ISC).
Keynote Speech & Special Lecture
Keynote Speech
"Resilient and Inclusive Transportation Systems through Smarter Mobility"
by Atty. Jaime Fortunato Caringal (Assistant Secretary, Project Development & PPP, Department of Transportation and Communications, Philippines)
Special Lecture
"impact of Competition in Building a Resilient and Inclusive Transportation in the Face of ASEAN Integration"
by Hon. Geronimo Sy (Department of Justice, Philippines)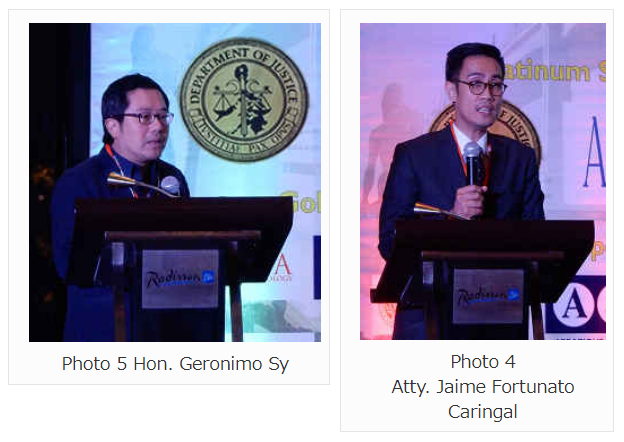 Special Sessions & IRG Sesssions
WCTR & EASTS Joint Special Session: Disaster Resilience in Transport
Special Session 1: High Speed Railway and Regional Economic Development (KOTI-EASTS SPR)
Special Session 2: Institutions for Railway Development in Asian Cities: Prospects for PPP
Special Session 3: Building Sustainable Urban Logistics Systems in East Asia (KOTI-EASTS SPR)
Special Session 4: Philippine National Topics
Special Session 5: Philippine Metro Transport Systems
IRG-15-2009: Sustainable Transport Futures for Cities in Asia and the Pacific
IRG-17-2011: Logistics in Asia: Interdependent Supply Chain and Advancement of Intelligent Management
IRG-18-2012: Strategies for a Sustainable Transportation Path for Small- and Medium-Sized Cities in East Asia
IRG-22-2013: Integrated Sign Systems for Non-motorized Transport and Transit Users
IRG-24-2013: Viability of Public Transport Harmonizing System with Para-Transit Modes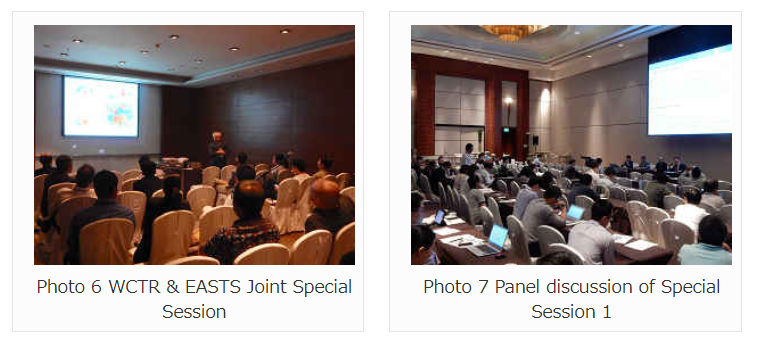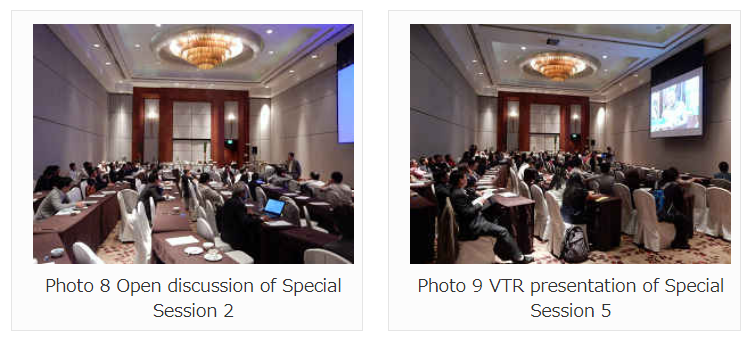 Technical Tours
Option 1: Tsuneishi Shipyard (THICI)
Option 2: Cebu Mactan Airport
Awarding
[Yasoshima Yoshinosuke Prize] (Best of Best Papers Awards)
"Analysis of Vulnerability in Multinational Retailing Delivery Service System: A Case Study of FamilyMart and Circle K"
by

Yu-kai HUANG

(Nanhua University, Taiwan) and

Cheng-Min FENG

(National Chiao Tung University, Taiwan)
[Best Paper Award]
a) Enlightening Asia-specific Topics
"State of the Art of Paratransit Literatures in Asian Developing Countries"
by

Veng Kheang PHUN and Tetsuo YAI

(Tokyo Institute of Technology, Japan)
b) Discovering Interesting Facts
"Exploring trip fuel consumption by machine learning from GPS and CAN bus data"
by

Weiliang ZENG, Tomio MIWA and Takayuki MORIKAWA

(Nagoya University, Japan)
c) Technological Innovation
N/A
d) Institutional Innovation
N/A
e) Theoretical Development
"System Partition Method of Urban Arterials to Improve Signal Coordination"
by

Xiaojun TANG, Fengmin LAN, Shengchuan ZHAO and Lihui ZHANG

(Dalian University of Technology & Zhejiang University, China)
f) Methodological Development
"Dynamic Journey Time Estimation in Stochastic Road Networks with Uncertainty"
by

Qiong TANG, Xingang LI, William H.K. LAM and H. W. HO

(The Hong Kong Polytechnic University, Hengyang Normal University, Hong Kong and Beijing Jiaotong University, China)and"A Similarity-based Self0evolutionary Model for Railway Arrival Forecasting"
by

Tsung-Hsien TSAI

(National Quemoy University, Taiwan)
g) Best application in practices
"Impact Assessment Model of International Transportation Infrastructure Development: Focusing on Trade and Freight Traffic in Central Asia"
by

Satoshi TANABE, Ryuichi SHIBASAKI and Hironori KATO

(The University of Tokyo; National Institute for Land and Infrastructure Management, Japan)
h) Difficult Research Accumulations
N/A
[OCDI Takeuchi Yoshio Special Award for Logistics Research] (New Award)
"Motion-based energy analysis methodology for hybrid straddle carrier towards eco-friendly container handling system"
by

Putu HANGGA and Takeshi SHINODA

(Kyushu University, Japan)
*The members of Awards Selection Subcommittee: Junyi ZHANG (Editor-in-chief, Japan), Mohd Sadullah, AHMAD FARHAN (malaysia), Jaisung CHOI (Korea), Alexander ERATH (Singapore), Tao FENG (Netherlands), Hironori KATO (Japan), Hussein S. LIDASAN (Philippines), Bhargab MAITRA (India), Qiang MENG (Singapore), Jing SHI (China), Wai Yuen SZETO (Hong Kong), Bagus Hario SETIADJI (Indonesia), Guohua SONG (China), Ofyar Zainuddin TAMIN (Indonesia), Louis Chien-Hung WEI (Taiwan), Makoto CHIKARAISHI (Japan) and Hajime SEYA (Japan).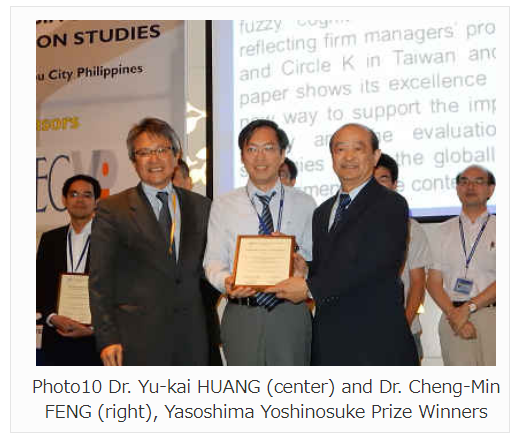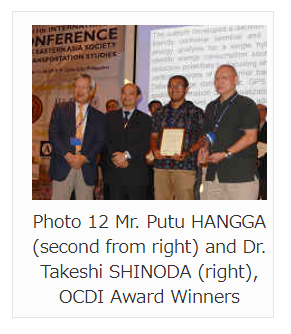 Outstanding Presentation Award – for detail

[Best Oral Presentation]
Sayaka Yasui

(Ritsumeikan University)

Andra Charis S. Mijares

(Tokyo Institute of Technology)

Putu Hangga

(Kyushu University)

Jefferson R. Vallente Jr.

(Xavier University – Ateneo de Cagayan)

Tam Tran

(Kobe University)

Satoshi Tanabe

(The University of Tokyo)
[Best Poster Presentation]
Fumei GU

(Nagoya University)

Khairun Sarah Radhiah Bachok

(International Islamic University Malaysia)

Phathinan Thaithatkul

(Tokyo Institute of Technology)
*Sub-committee for Outstanding Presentation Award: Jean-Paul THULL (New Zealand), Karl VERGEL (Philippines) and Matthew BURKE (Australia).
Outstanding Transportation Project Award (OTPA) – for detail
Category: Construction Project
Category: Planning Project
*Awarding Committee Members: Mohamed Rehan KARIM (Malaysia), Tien Fang FWA (Singapore), William H.K. LAM (Hong Kong) and Shintaro TERABE (Japan).
Best Domestic Society Award – for detail
THAI SOCIETY FOR TRANSPORTATION AND TRAFFIC (TSTS) (Thailand)
*Awarding Committee Members: Danang Parikesit (Chair, Indonesia), Nguyen Quoc Hien (Vietnam) and Hitoshi Ieda (Japan).
Board Meeting
Two Board Meetings were held during the Conference period. Main agendas were the followings: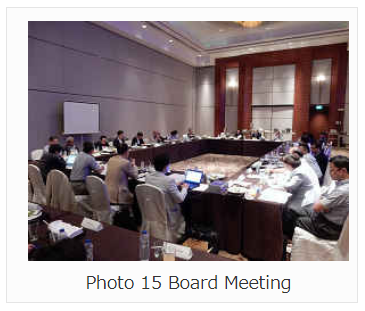 Main Agendas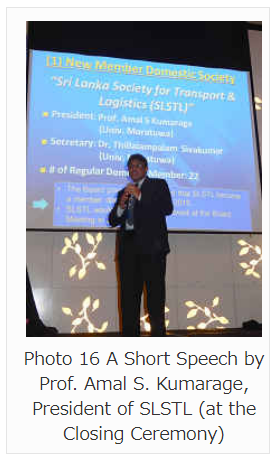 The second Special Research Project (SRP) between KOTI-EASTS has started under the title of "Building Sustainable Urban Logistics System in East Asia" while the first project "International Comparison on High-Speed Railway Impacts and Station Area Development – Japan, Taiwan and Korea" was being completed. Both projects held Special Sessions (1 & 3) in the Conference.
From Sri Lanka, "Sri Lanka Society for Transport & Logistics" (SLSTL) was principally and conditionally approved as a new member domestic society. It is expected to be officially approved in the Board Meeting in 2016.
New membership (Individual Member) was approved.
New publications were reported: EASTS Library and "Transportation Project of the 20th anniversary photo book".
Activities of the EASTS Domestic Societies were reported.
IRG (International Research Group) – for detail
10 IRGs has been ongoing since before this conference, of which one was completed in 2015 and of which 9 are still ongoing. Additionally one new IRG has been approved. Currently over 120 EASTS members are actively involved in the 10 IRGs' activities.
New IRGs
Selection of the Research for ICRA – for detail
New Officers & Committee Chairs for the Next Two Years
– Board of Directors (Red: New)
President
1st-Vice PresidentPichai TANEERANANON (Thailand)
2nd-Vice PresidentTran Tuan HIEP (Vietnam)Secretary GeneralNaohisa OKAMOTO (Japan)TreasurerTetsuro HYODO (Japan)ISC ChairpersonAkimasa FUJIWARA (Japan)Representative from Each
Member Domestic SocietyWen Long YUE (Australia)
Chhouk Chhay HORNG (Cambodia)
Derong WANG (China)
William H.K. LAM (Hong Kong)
Danang PARIKESIT (Indonesia)
Haruo ISHIDA (Japan)
Youngchan KIM (Korea)
Bounleuam SISOULATH (Lao PDR)
Mohamed Rehan KARIM (Malaysia)
Asralt BUYANTSOGT (Mongolia)
Khin Than YU (Myanmar)
Surya Raj ACHARYA (Nepal)
Jean-Paul THULL (New Zealand)
Tien Fang FWA (Singapore)
Shiaw-Shyan LUO (Taiwan)Directors-at-LargeHitoshi IEDA (Japan)
Kyung Soo CHON(Korea)
S.K. Jason CHANG (Taiwan)
Chang Woon LEE (KOTI, Korea)Ex-Officio MembersPresident EmeritusHideo NAKAMURA (Japan)Former PresidentsPrimitivo C. CAL (Philippines)
Shigeru MORICHI (Japan)
Kyung Soo CHON (Korea)
Cheng-Min FENG (Taiwan)
– Committee Chairs (Red: New)
Committee
Chair
Outstanding Transportation Project Award
Mohamed Rehan KARIM
Best Domestic Society Award

Pichai TANEERANANON

Membership Committee
Jason CHANG and
Derong WANG
Best Presentation Award

Jean-Paul THULL
Venue of the Next Conference (2017)
The 12th Conference will be held in Binh Duong, Veitnam in September, 2017 and hosted by TSSV (Transportation Studies Society of Vietnam).
Others
---
If you have any questions on this report, please feel free to email at easts[at]easts.info.
—
Reported on 21 September 2015 by Naoyuki Tomari (EASTS Secretariat/The Korea Transport Institute).