Contents
Conference Overview
The Conference Committee and the Local Organizing Committee in Taiwan did an excellent arrangement to attain the success of the Conference. The Conference provided all participants with great oportunities to enrich their professional knowledge and to experience wonderful culture in Taiwan.The 10th EASTS Conference was held in the Chang Yung-fa Foundation building, Taipei, Taiwan from 9 to 12 September, 2013. The Conference on the theme of "Towards a Harmonized Transportation Society" attracted 892 participants including 219 students and had 401 oral and 99 poster presentations covering all fields of transportation studies.
For detail about academic and practical papers, please see the website of International Scientific Committee (ISC).

Keynote Speeches
Keynote Speech 1
"Challenges and Suggestions to Transportation Professionals in Asia"
by Prof. Gang-Len CHANG (University of Maryland, College Park)
Keynote Speech 2
"Highway Safety, Social Equity and Environmental Sustainability: The Conflicting Objectives"
by Prof. Fred MANNERING (Purdue University)
Keynote Speech 3
"Public Transportation Development in Taiwan"
by Dr. Chi-Kuo MAO (Vice Premier, Executive Yuan)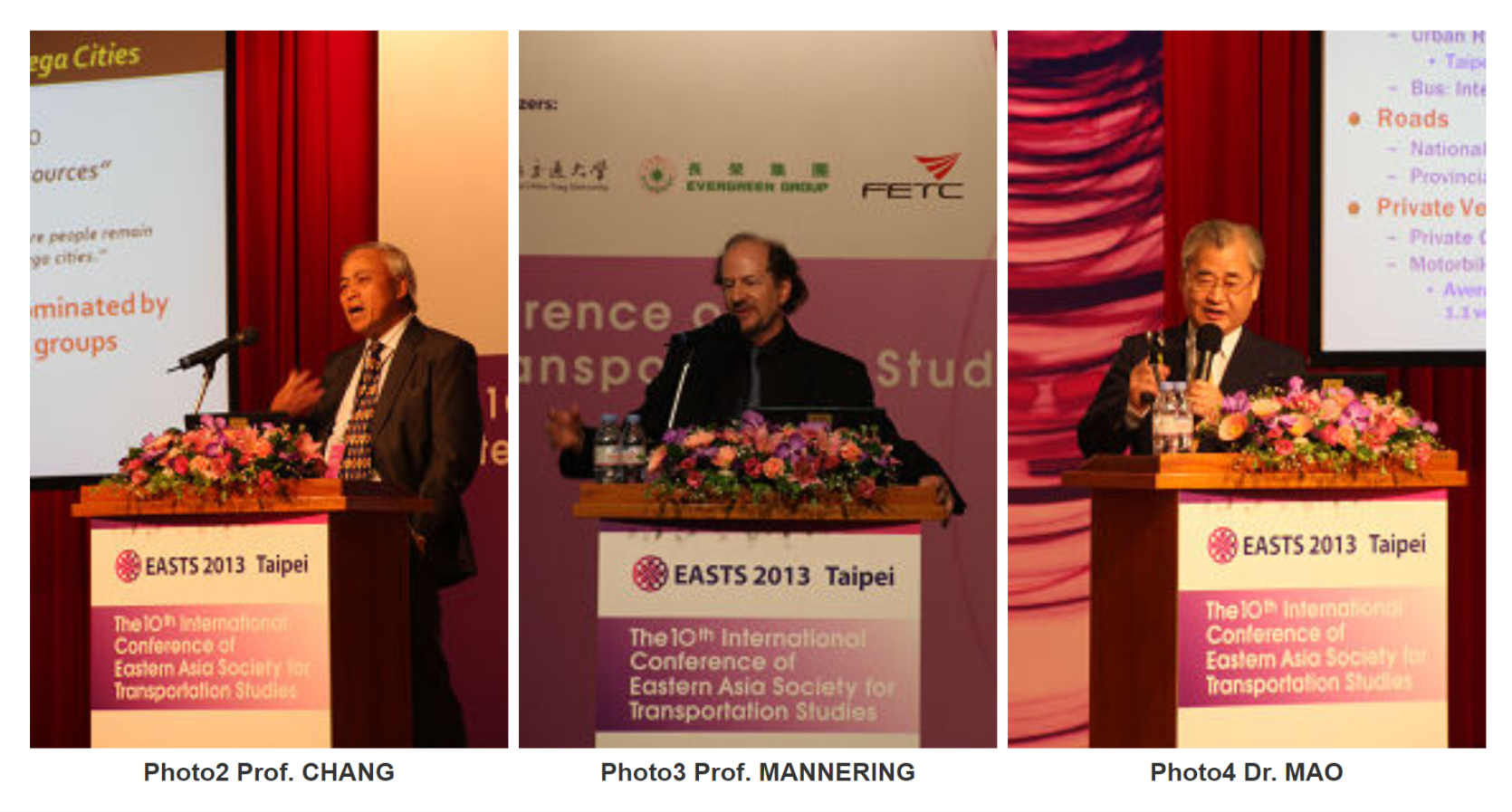 Special Sessions & Panel Discussions
Special Session 1
International comparison on High-Speed Railway Station Area Development – Japan, Taiwan and Korea
Special Session 2
SIG 1, 7 & 11, WCTRS (World Conference on Transport Research): Transportation at Natural Disaster and Emergency in Eastern Asia
Panel Discussion 1
User-oriented Transportation Services for a Livable City
Panel Discussion 2
The Way Forward of EASTS: Increasing the journal quality
IRG10: Sustainable Neighborhood Transportation to Improve the Quality of Life in Developing Cities
IRG15: Sustainable Transport Futures for Cities in Asia and the Pacific: Trends and Prospects of Indigenous Transport in Climate Change Adaptation
IRG16: Intercity Transport in Asian Countries (ITAC)
IRG17: Logistics in Asia: Interdependent Supply Chain and Advancement of Intelligent Management
IRG18: Strategies for a Sustainable Transortation Path for Small and Medium sized Cities in East Asia
IRG19: International Comparison Study on Alternative Fuels and Vehicles in East Asia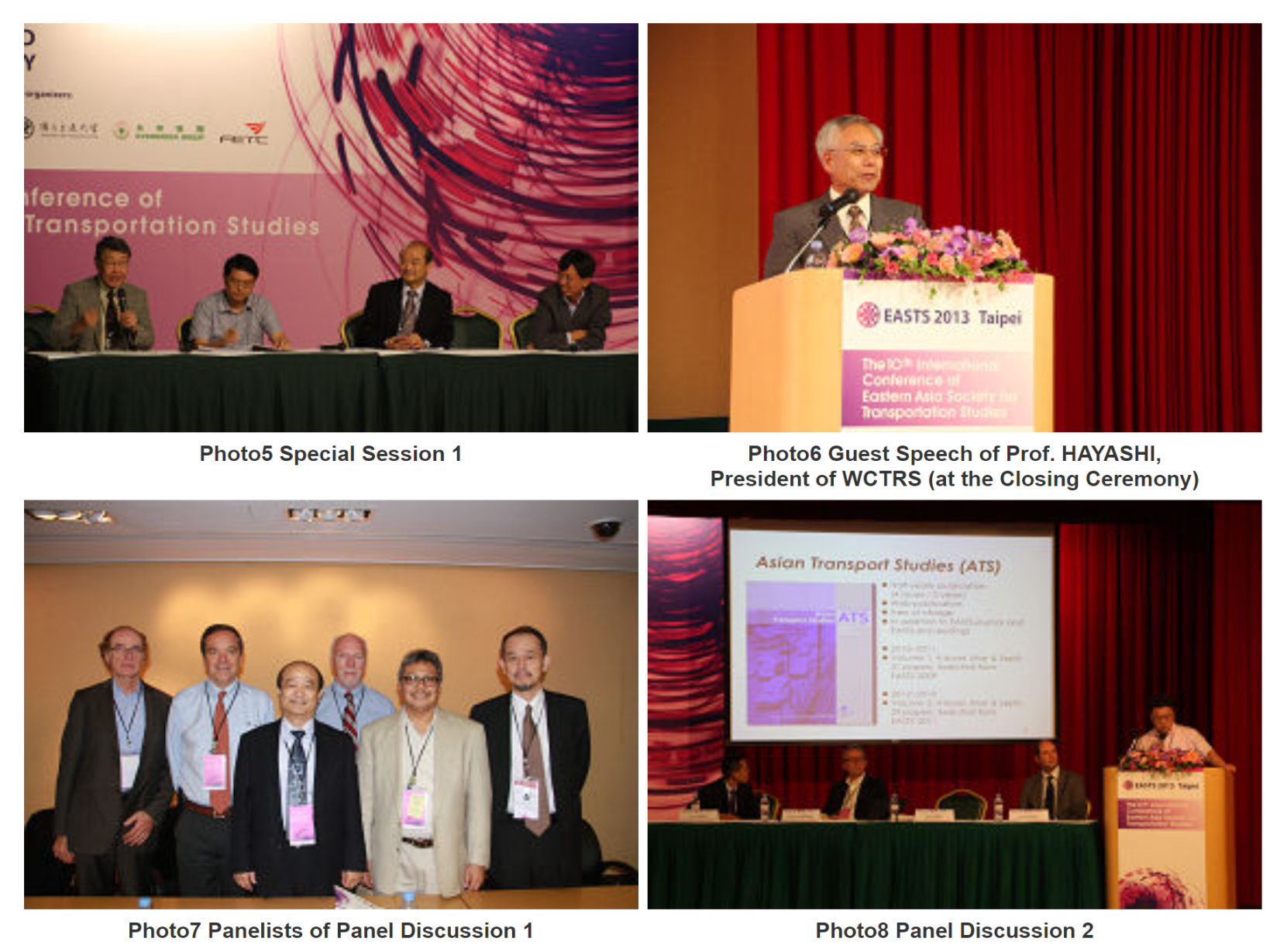 Representative Assembly and Board Meetings
One Representative Assembly and three Board Meetings were held during the Conference.
Main agendas were follows:
At the Representative Assembly Meeting, it has been approved that the number of "Directors-at-Large" is changed from 3 to 3-5.
The Board of Directors approved "Society of Transport Engineers, Nepal (SOTEN)" as a new Member Domestic Society of Nepal. We are truly pleased to welcome.
A Special Research Project between KOTI-EASTS has started. The theme is "International Comparison on High-Speed Railway Impacts and Station Area Development – Japan, Taiwan and Korea". As the first event, a Special Session (1) was held in this conference.
Memorandum of Agreement on co-hosting the EASTS 2013 Conference was signed by CIT (Chinese Institute of Transportation, Taiwan) and EASTS. The CIT will provide financial support of USD 30,000 to EASTS in 2013. The EASTS will utilize the financial support from the CIT to all of the activities of the EASTS.
The EASTS has begun preparing to hold EASTS 20th Anniversary events.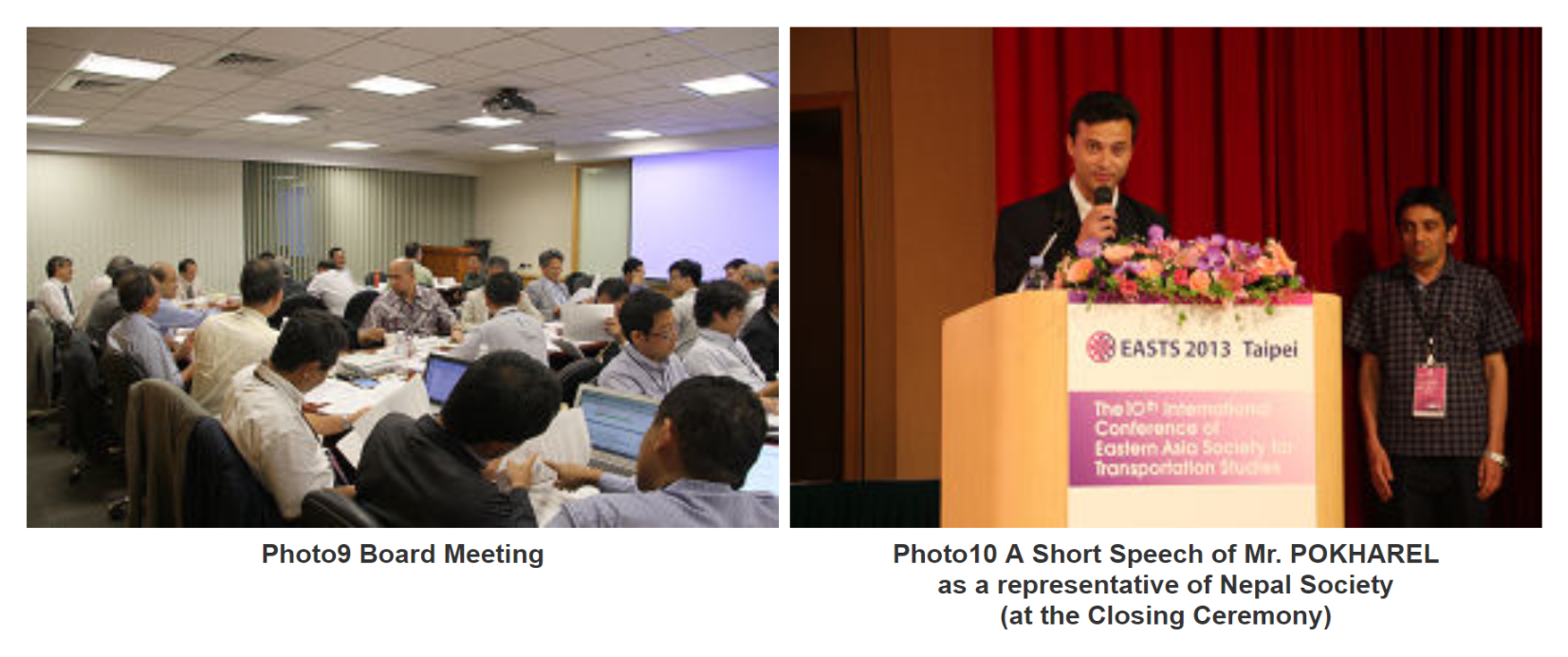 Technical Tour
Route 1: Taipei City Traffic Information Center (Venue: Taipei City Traffic Information Center, Taipei Bus Station, TRTC Operation Control Center)
Route 2: Taipei Mass Rapid Transit Construction Site (Venue: San-Chung MRT construction site)
Route 3: Taipei Mass Rapid Transit Depot (Venue: Rolling Stock Plant, Track Maintenance Plant, Interactive Emergency Evacuation Exhibition Center)
Route 4: Taipei Maokong Gondola (Venue: Taipei Maokong Gondola)
Awarding
Best Paper Award
[Yasoshima Yoshinosuke Prize] (Best of Best Papers Awards)
"Design of Transportation Service Auction under Time-cost Environment"
by Suthatip PUEBOOBPAPHAN and Nakorn INDRA-PRAYOONG (Burapha University, Thailand)
[Best Paper Award]
For Enlightening Asia-specific Topics
"A Study on the Use of Smartphones for Road Roughness Condition Estimation"
by Viengnam DOUANGPHACHANH and Hiroyuki ONEYAMA (Tokyo Metropoiltan University, Japan)
For Discovering Interesting Facts
"Upward Safety Communication and Safety Behavior of Cabin Crew"
by Ching-Fu CHEN and Shu-Chuan CHEN (Aletheia University, Taiwan)
For Technological Innovation
"A Numerical Study on the Influence of Aggregate Size on Skid Resistance Performance of Porous Pavements"
by Lei ZHANG, Ghim Ping ONG and Tien Fang FWA (National University of Singapore, Singapore
For Institutional Innovation
"Cross-sector Transportation Authority for Jakarta Metropolitan Area"
by Hirohisa KAWAGUCHI (Oriental Consultants Co., Ltd., Japan), Keigo HAMADA (Kobe City Urban Dev. Corp., Japan), Tomokazu WACHI (Oriental Consultants Co., Ltd., Japan), Osamu ABE (Value Planning International, Inc., Japan), Sadayuki YAGI (Japan Research Ins., Japan) and A. ALDIAN (The World Bank, Indonesia)
For Theoretical Development
"Possibility of Crosswalk Design Independent from Signals at Basic Road Sections"
by Akihiro TANAKA and Kiichiro HATOYAMA (The University of Tokyo, Japan)
For Methodological Development
"Analyses of Route Choice and Route Switching Behavior Using Panel ETC Data from Tokyo Metropolitan Expressway"
by Tawin TIRATANAPAKHOM, Takashi OGUCHI, Shinji TANAKA, Sungjoon HONG and Hiroshi WARITA (The University of Tokyo, Japan)
and
"Smile and Behavior – New Evaluation Method for Pedestrian Environment"
by Aya KOJIMA, Taichi FUDAMOTO, Miho OKUMA and Hisashi KUBOTA (Saitama University, Japan)
For Difficult Research Accumulations
"Introducing High Speed Rail (HSR) System in Developing Asia: Issues and Prospects"
by Surya Raj ACHARYA and Shigeru MORICHI (Institute for Transport Policy Studies, Japan)
*Awarding and ATS (sub-)Committee is in the International Scientific Committee (ISC).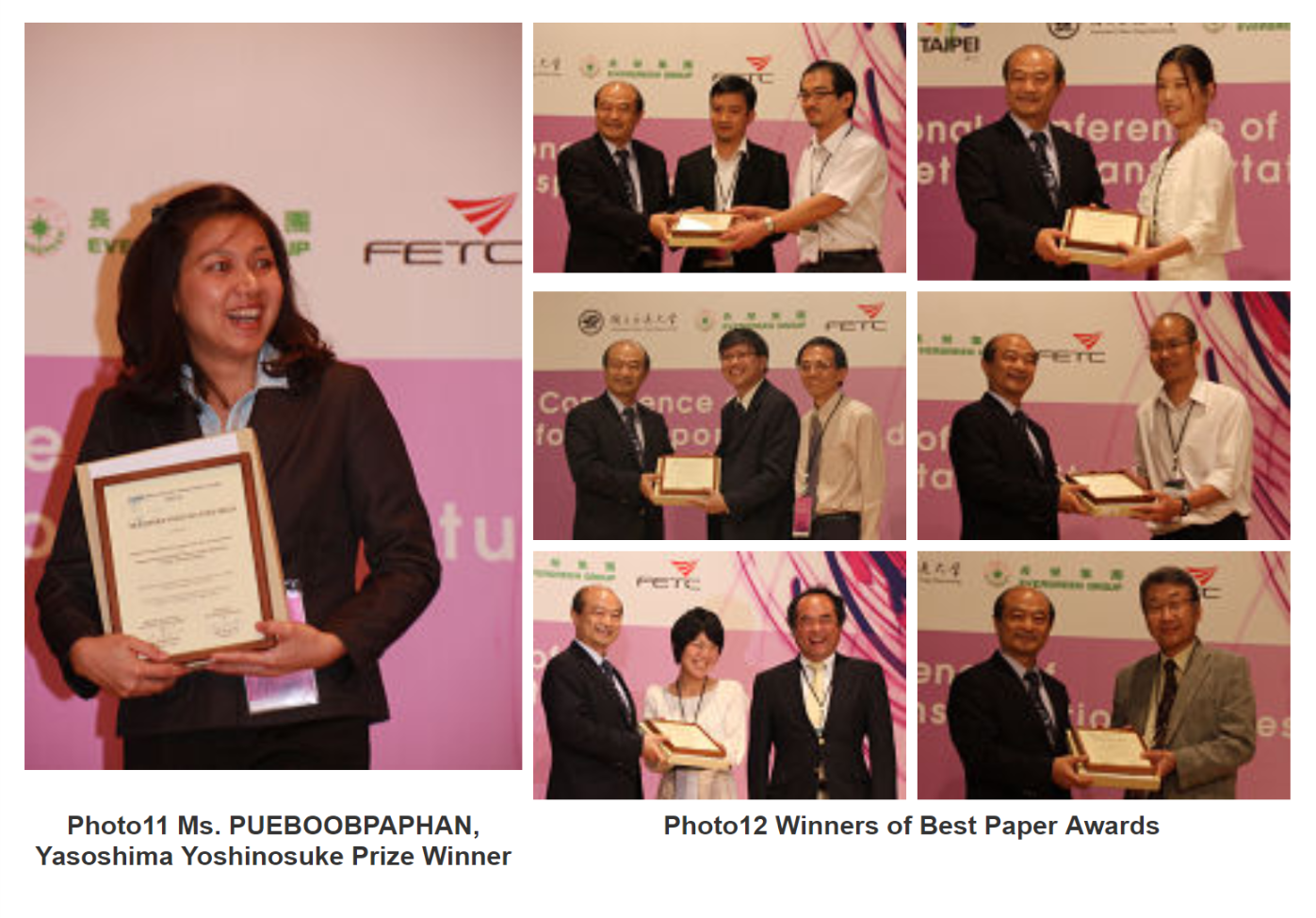 Outstanding Presentation Award
[Best Oral Presentation]
Donyarit SETTASUWACHA (Prince of Songkla University)
Winnie Wing Yee LAM (The University of Hong Kong)
Sathita MALAITHAM (Kyoto University)
Hyungjoo KIM (Korea Advanced Institute of Science and Technology)
Sandy Mae GASPAY (The University of Tokyo)
[Best Poster Presentation]
Nan KANG (Nagoya University)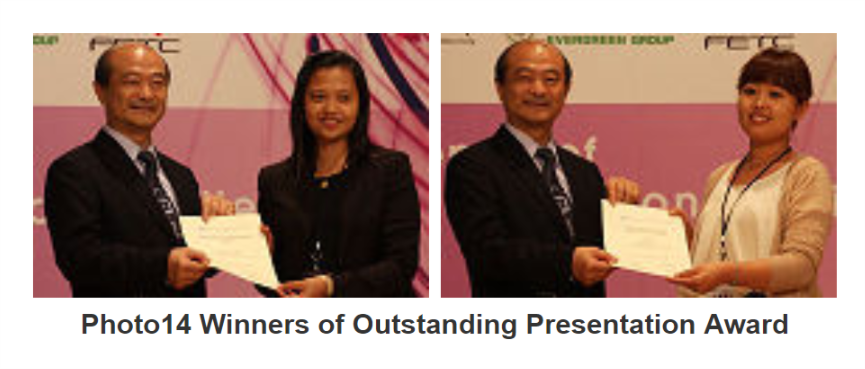 Outstanding Transportation Project Award (OTPA)
Category: Construction Project
Category: Planning Project
Fun Travel in Taipei – An Innovative Advanced Traveler Information Service, TaiwanKey Merits:
•Social and Transportation Impacts
– To increase the utilization of public transportation.
– The highest number of monthly inquiries was 614,300,000 times.
•Method/Technology of Project
– It provides multiple versions such as iOS, Android, Windows Phone 7 and Windows Mobile versions
•Financing and Management
– It successfully integrates all of Taipei City's information
•Uniqueness
– Sharing of various public transport & traffic information into one smartphone application
Best Domestic Society Award
Transport Studies Society of Vietnam (TSSV)
IRG (International Research Group)
New IRGs4 IRGs were completed in 2013 and 6 IRGs are ongoing. Furthermore new 5 IRGs were approved by the Board Meeting (see below). At the present stage, over 120 EASTS members are joining IRG activities.
Selection of the Research for ICRA
New Officers & Committee Chairs for the Next Two Years
– Board of Directors (Red: New)
President
Cheng-Min FENG (Taiwan)
1st-Vice President
Pichai TANEERANANON (Thailand)
2nd-Vice President
Reynaldo B. VEA (Philippines, 2014.1-)
Hussein LIDASAN (Philippines, -2014.1)
Treasurer

Tetsuro HYODO (Japan)

ISC Chairperson
Akimasa FUJIWARA (Japan)
Secretary General
Tetsuo YAI (Japan)
Representative from Each
Member Domestic Society
Wen Long YUE (Australia)
Chhouk Chhay HORNG (Cambodia)
Derong WANG (China)
William H.K. LAM (Hong Kong)
Danang PARIKESIT (Indonesia)
Haruo ISHIDA (Japan)
Ki-Hyuk KIM (Korea)
Bounleuam SISOULATH (Lao PDR)
Mohamed Rehan KARIM (Malaysia)
Asralt BUYANTSOGT (Mongolia)
Khin Than YU (Myanmar)


Lal Krishna KC (Nepal)


Jean-Paul THULL(New Zealand)
Tien Fang FWA (Singapore)
Hsin-Li CHANG (Taiwan)
Tran Tuan HIEP (Vietnam)
Directors-at-Large
Hitoshi IEDA (Japan)
Kyung Soo CHON(Korea)
S.K. Jason CHANG (Taiwan)


Gyeng Chul KIM (Korea, KOTI)

Ex-Officio Members
President Emeritus
Hideo NAKAMURA (Japan)
Former Presidents
Primitivo C. CAL (Philippines)
Shigeru MORICHI (Japan)
Kyung Soo CHON (Korea)
– Committee Chairs (Red: New)
Committee
Chair
Outstanding Transportation Project Award

Mohamed Rehan KARIM

Best Domestic Society Award
Danang PARIKESIT
Membership Committee

Jason CHANG

 and
Derong WANG
Best Presentation Award
Wen Long YUE
ICRA Selection
Haruo ISHIDA
Venue of the Next Conference (2015)
The 11th Conference will be held in Cebu, Philippines in 2015. TSSP (Transportation Science Society of the Philippines) will host it.
EASTS Secretariat
easts[at]easts.info
—
Reported on 25 September 2013 by Naoyuki Tomari (EASTS Secretariat) with support of Naohisa Okamoto (EASTS Secretariat).