CONFERENCE OVERVIEW
The 8th EASTS Conference was held in Shangri-la Hotel in Surabaya, Indonesia, with great success on 16th-19th November 2009.
The conference attracted 648 participants from all over the world and 492 academic/practical papers were presented covering all fields of transportation.
The Conference Committee and Local Organizing Committee in Indonesia did an excellent arrangement to attain the success of this conference. This conference provided all participants with good opportunities to enrich their professional knowledge and to experience the wonderful culture in Indonesia.

Keynote Speech:
"Transport Strategies for Green Growth in the East Asian Region",
by Professor Kyung Soo CHON, President of EASTS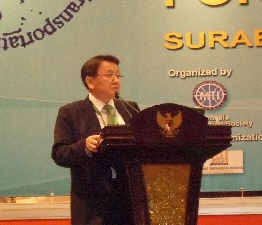 Panel Discussions:
"Catastrophic Natural Disaster and Transportation""
Coordinator: Prof. Cheng-Min Feng
Panelists: Prof. Hardi, Mr.Takashi Yakuwa, Dr.Febrin Anas Ismail, and Dr. Chen Ke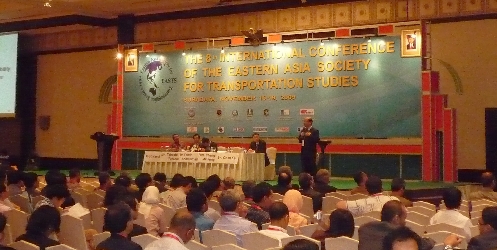 Special Technical Sessions:
– Indonesia Special (1): Progress in the urban public transport reform with a specific reference to the development of bus priority in Indonesia
– Indonesia Special (2): Motor cycle
– IRG 5: Culturally Sensitive Pedestrian-centric Philosophy to Advancement of Urban Form in East Asia
– IRG 2: International, Inter-regional, and City Logistics Research Group in Wide Variety of Asian Region
– IRG 10: Sustainable Neighborhood Transportation to Improve the Quality of Life in Developing Cities
– IRG 12: PRivate Sector Initiatives for ProMoting Road Development in East ? Asian Countries (PRIME Project)
– ICRA(IRG 8): Research on the Control Mechanism and Simulation of Safety Conditions of Perishable Foods Transportation and Logistics
– Integrated Land Use / Transportation: Integrated Land Use/Transportation Planning and Implementation (SIG1/7, WCTRS and CODATU)
– EASTS Research Perspective: How can EASTS contribute to Sustainable Developments in our Region? -Future Deployment of EASTS Research Vision-
– Current Transportation Issues in New Member DS Countries: Cambodia, Mongolia and Myanmar
– EASTS Outstanding Transportation Project Award (OTPA)
>> For more detailed information regarding academic/practical papers, keynote speech and panel discussion etc, please see the website of International Scientific Committee (ISC)

Board Meetings and Representative Assembly:
Three Board Meetings and one Representative Assembly were held during this conference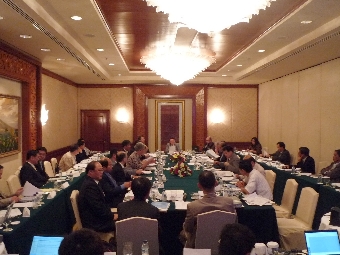 Technical Visits:
1)Purabaya Bus Station
2)Waru Train Station
3)Gubeng Train Station
4)Surabaya River Boat Sailing Experience
5)Cak Durasim Cultural Building
6)Harbour Tour on Cruise Ferry Ship
BEST PAPER AWARDS
Title: Estimating the Minimum Required Width of Signalized Crosswalks Considering Bi-directional Pedestrian Flow and Different Age Groups"[Yasoshima Yoshinosuke Prize]
Authors: Wael K.M. ALHAJYASEEN, Hideki NAKAMURA, Nagoya University, Japan
[Best Paper Awards]
1. Best paper award for enlightening Asia-specific topics
Title: Policy Evaluation of Multimodal Transportation Network, the Case of Inter Island Freight Transportation in Indonesia
Authors: Ade SJAFRUDDIN, Harun Al-Rasyid S. LUBIS, Russ Bona FRAZILA, and Dimas B. DHARMOWIJOYO, Institut Teknologi Bandung (ITB), Indonesia
2. Best paper award for enlightening Asia-specific topics
Title: The Estimated Effect of the Proposed Fx Megataxi Express Service on Mode-Changing Behavior in Metro Manila
Authors: Alexis M. FILLONE, De La Salle University-Manila, Philippines
3. Best paper award for technological innovation
Title: Resistance to Disintegration of Rubberized Porous Asphalt
Authors: Herda Yati KATMAN, Universiti Tenaga Nasional, Mohd. Rasdan IBRAHIM, Mohamed Rehan KARIM, and Abdel Aziz MAHREZ, University of Malaya, Malaysia
4. Best paper award for discovering interesting facts
Title: The Evaluation of Transportation Policies based on the Quality of Mobility Index by Capability approach
Authors: Youhei EITOKU, Fukuyama Consultants Co., LTD., and Shoshi MIZOKAMI, Kumamoto University, Japan
5. Best paper award for institutional innovation
Title: MOLTS: Multinational Operators for Local Transport Services
Authors: Takeru SHIBAYAMA and Hitoshi IEDA, The University of Tokyo, Japan
6. Best paper award for theoretical development
Title: Queuing Pricings to Bulk Carriers at the Anchorage
Authors: Chen-Hsiu LAIH, and Pey-Yuan SUN, National Taiwan Ocean University, Taiwan
7. Best paper award for methodological development
Title: Level Crossing Modeling using Petri Nets Approach and Π-Tools
Authors: Siti Zaharah ISHAK, Wen Long YUE and Sekhar SOMENAHALLI, University of South Australia, Australia
8. Best paper award for best application in practices
Title: Monitoring Early Age Behavior in the Construction of Joint Plain Concrete Pavement
Authors: Hyung Bae KIM, Korea Expressway Corporation, Young Chan SUH, Hanyang University, and Sang Wuk PARK, Korea Expressway Corporation, Korea
9. Best paper award for best application in practices
Title: How Model Accuracy is Improved by Usage of Statistics? – An Example of International Freight Simulation Model in East Asia –
Authors: Ryuichi SHIBASAKI, Tomihiro WATANABE, National Institute for Land and Infrastructure Management, MLIT, and Daishi ARAKI, Pacific Consultants Co., LTD., Japan
10. Best paper award for difficult research accumulations
Title: None
Authors:

For more detailed information, please see the website of International Scientific Committee (ISC)
OUTSTANDING PRESENTATION AWARD
Outstanding Presentation Award is presented to;
Suhana KOTING, Mamun Muntasir RAHMAN, Wael K.M. ALHAJYASEEN, Hung Wai HO, Nuttapong BOONTOB, Sung Ho HUR, N TIPPAYANATE, Paramet LUATHEP
OUTSTANDING TRANSPORTATION PROJECT AWARD (OTPA)
* Kaohsiung Mass Rapid Transit, Taiwan
Key Merits
-Social and Transportation Impact
Safe, comfortable, and convenient rapid transit system to the citizens and visitors.
-Method/Technology of Construction
The largest circular underground station (internal diameter is 140M and 27.05M in depth).
-Financing and Management
BOT scheme (public 10%, private 90%)
-Uniqueness
The public art projects designed specifically for individual stations
(Three projects are nominated: 1)Kaohsiung Mass Rapid Transit, Taiwan, 2)Kowloon Southern Link, Hong Kong, 3)Asian Transportation Research Society, Thailand)
BEST DOMESTIC SOCIETY AWARD
* Transportation Science Society of Malaysia
BEST TRANSPORTATION LANDMARK PHOTO CONTEST
* No awardee in this conference
SELECTION OF THE RESEARCH PROJECTS FOR ICRA
The following research project were selected as grantees of ICRA (International Cooperative Research Activity) 2009-2010 through the strict examination by ICRA selection committee and the approval of the board.
Note: EASTS will call for the application for ICRA also in the next year 2010.
| | | |
| --- | --- | --- |
| Research Period | Principal Researcher | Research Project Title |
| 2009-2010(ICRA-B) | Upali Vandebona, University of New South Wales, Australia | Culturally sensitive pedestrian-centric philosophy to advancement of urban form in East Asia (by IRG-05-2005) |
for more info, see here
IRG (International Research Group)
Now, 8 IRGs are operating and there were total 5 Special Sessions in this conference. Over 100 EASTS members are joining IRGs.
*New IRG
"Platform for Transport and Environmental Information (PTEI)"
-Headed by Branko Stazic (Australia)
-Other 6 researchers
"Sustainable Transport Futures for Cities in Asia and the Pacific"
-Headed by Iderlina Mateo-Babiano (Australia)
-Other 6 researchers
for more info, see here
VENUE OF THE NEXT CONFERENCE (2011)
The 9th conference will be held in Jeju, Korea in 2011.
Korean Society of Transportation will host the event.
NEW MEMBER DOMESTIC SOCIETIES
– Mongolian Transport Research Society (Mongolia), 2008-
– Cambodia Society for Transportation Studies (Cambodia), 2009-
– Committee on Myanmar Transportation Studies (Myanmar), 2009-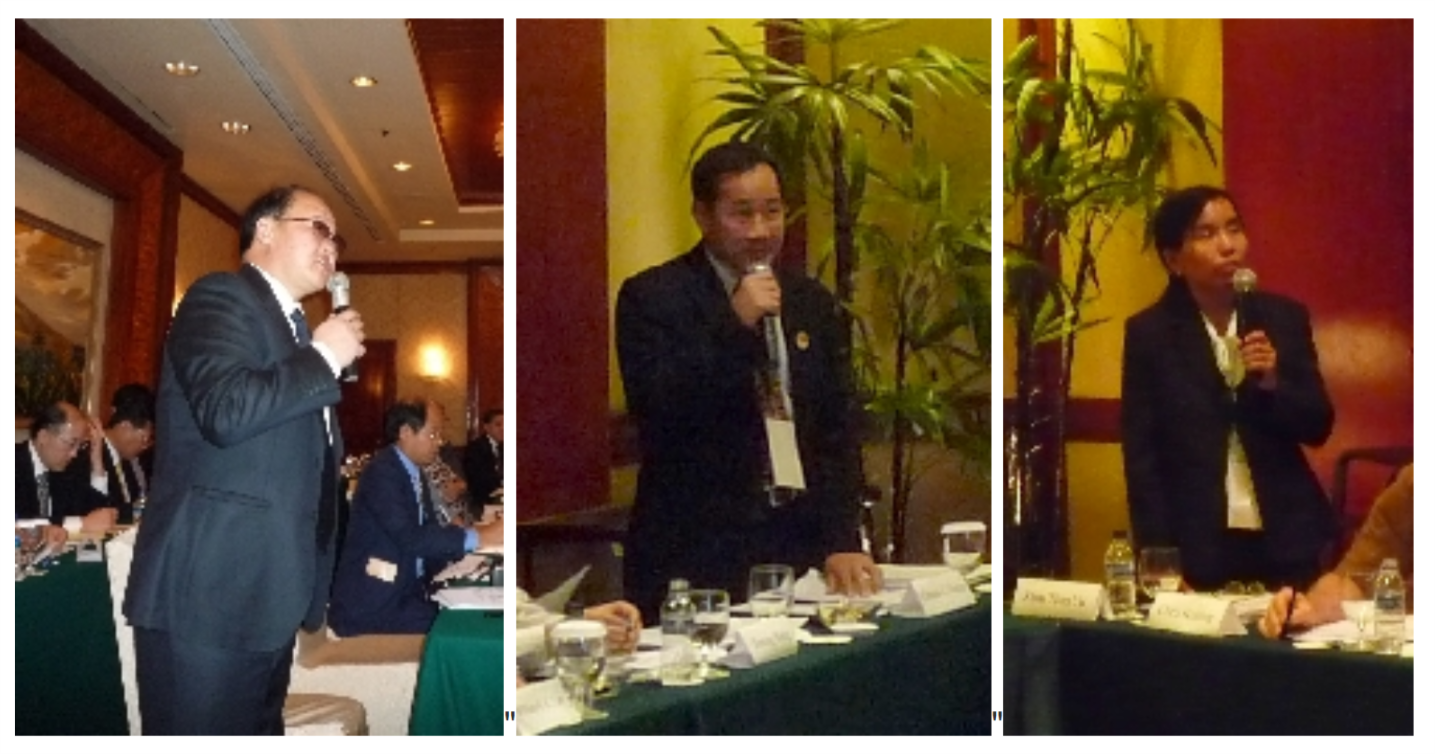 NEW OFFICERS FOR THE NEXT 2 YEARS
– Board of Directors
President:
Mr. Kyung Soo Chon (Korea)
1st Vice President
Mr. Pichai Taneerananon (Thailand)
2nd Vice President:
Mr. Young Tae Oh (Korea)
Treasurer:
Mr. Kee Yeon Hwang (Korea)
ISC Chairperson:
Mr. Hitoshi Ieda (Japan)
Secretary General:
Mr. Tetsuo Yai (Japan)
Mr. Asralt Buyantsogt (Mongolia)
Mr. Bambang Susantono (Indonesia)
Mr. Chhouk Chhay Horng (Cambodia)
Mr. Chris Kissling (New Zealand)
Mr. Crispin Emmanuel D. Diaz (Phillipines)
Mr. Derong Wang (China)
Ms. Khin Than Yu (Myanmar)
Mr. Khanngeun Khamvongsa (Lao PDR)
Mr. Mohamed Rehan Karim (Malaysia)
Mr. Shigeru Morichi (Japan)
Mr. Tien Fang Fwa (Singapore)
Mr. Tran Tuan Hiep (Vietnam)
Mr. Wen Long Yue (Australia)
Mr. William H. K. Lam (Hong Kong)
Mr. Wucheng Chen (Taiwan)
Directors-at-Large:
Mr.Cheng-Min Feng (Taiwan)
Mr. Hajime Inamura (Japan)
Ex-Officio Members
President Emeritus:
Mr. Hideo Nakamura (Japan)
Former President:
Mr. Primitivo C. Cal (Phillipines)
– Committee Chairs
Chair of Membership Committee:
Mr.Cheng-Min Feng, Mr.Derong Wang
Chair of Best Transportation
Landmark Photo Contest:
Mr. Wen Long Yue
Chair of Outstanding
Transportation Project Award:
Mr. William H.K. Lam
Chair of Best Domestic
Society Award:
Mr. Bambang Susantono
Chair of Financial
Reconstruction Committee:
Mr. Wucheng Chen
Chair of ICRA Selection:
Mr. Hajime Inamura
Secretariat Office of EASTS,
easts [at] easts.info