CONFERENCE OVERVIEW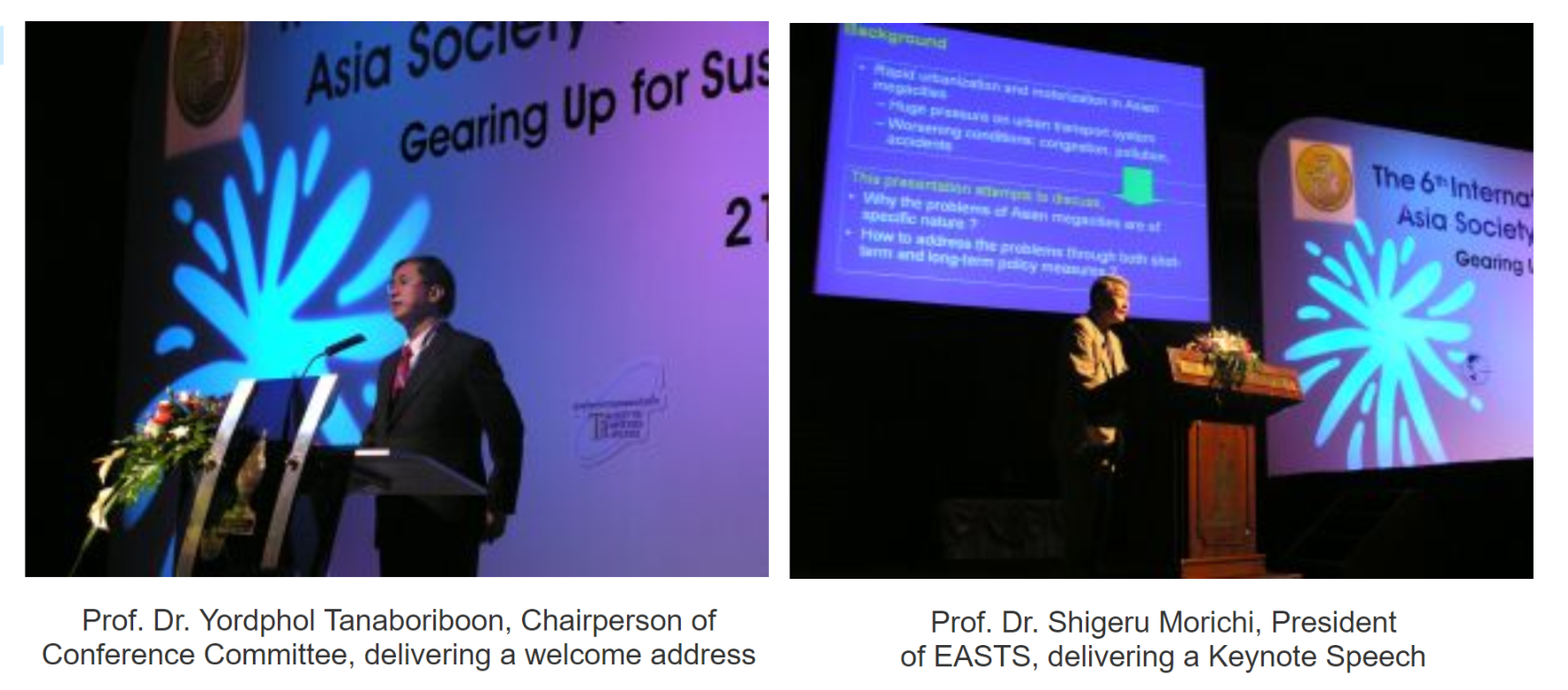 The 6th biannual EASTS conference was held in Bangkok, Thailand from 21 – 24, September, 2005. The conference attracted 747 participants from all over the world and 515 technical papers were presented covering all fields of transportation.
The Executive Conference Committee and Conference Committee in Thailand did an excellent arrangement to attain the success of this conference. This conference provided all participants with good opportunities to enrich their professional knowledge and to experience the wonderful culture in Bangkok.
Online journal is available here. Instruction to order the Journal and Proceedings CD-ROM is here.
Keynote Speech:
"Long-Term Strategy for Transport System in Asian Megacities",
by Prof. Dr. Shigeru Morichi
Technical Sessions:
Sustainable Transport Planning, Transport Survey, Para-transit, Motorbike and Non-motorrized Transport, Transportation Demand Modelling and Analysis, Traffic Accidents, ITS, Disaster, Project Evaluation and Management, Air Transport, Airport Planning and Operaion, Airlines, Logistics, Transportation Economics, Privatization and Financing, Road Maintenance, Policies and Strategies, Urban Road System, Asian Countries Behavioral Analysis, Traffic Flow Analysis, Road Safety, Data Collection, Traffic Simulation and Modelling, Bus (Performance Evaluation/Operation/Service), Operation Management and Pricing, Land Use and Spatial Analysis, Railway and Rail Transit, Water Transportation, Port Planning and Operation, Pavement Design, Grobal Environment, General Transportation, Transportation and the Environment, Traffic Assignment, Tourism, Traffic Control Systems, TDM, Road Network Modelling, Maritime and Island Water Transportation, Parking, Highway Planning and Design, Transportation Mode.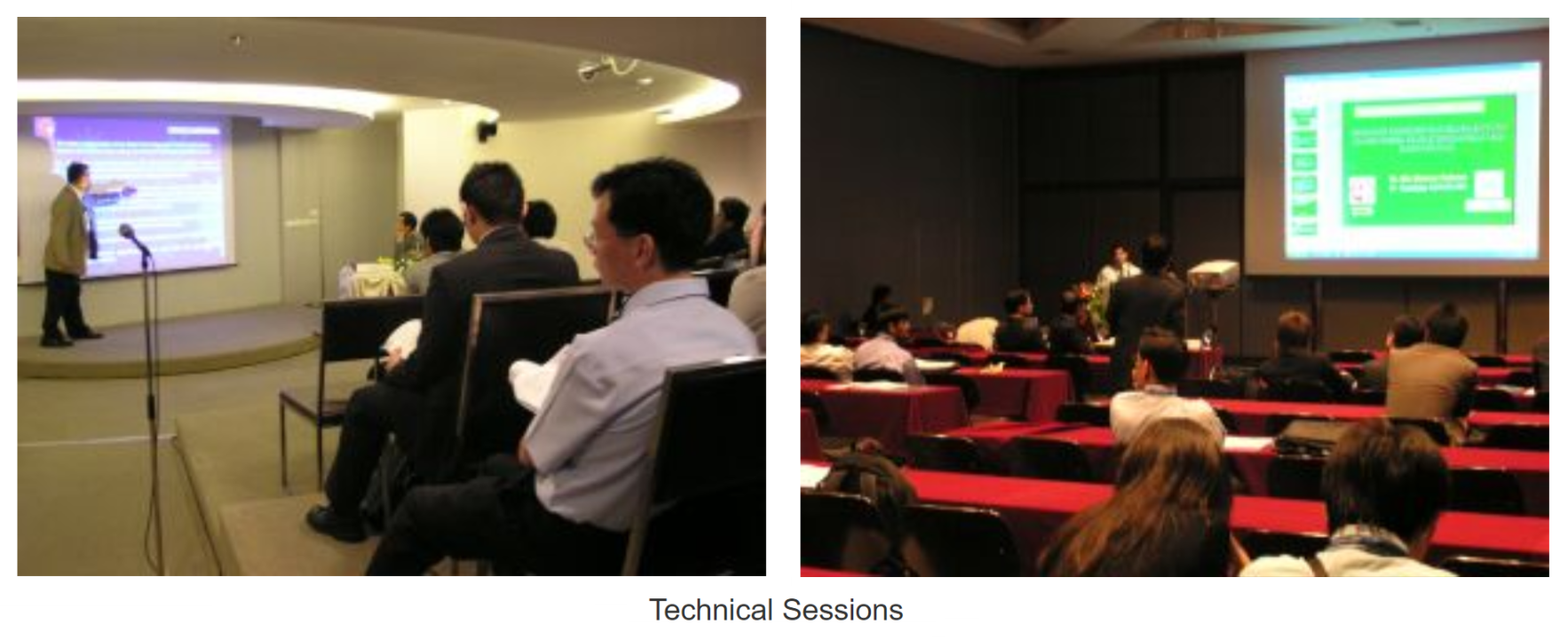 Special Sessions:
SS1: "Comparative Analysis ofMotorcycle Utilization and Forecasting Model of Motorcycle Ownership ofEastern Asian Countries (ICRA Session)"
SS2: "A Comparative Study on Urban Structures and Transportation Systems in AsianM etropolitan Cities (ICRA Session)"
SS3: "Public Transport for Sustainable Mobility in Asian Cities"
Panel Discussions:
PANEL1:"Affordable ITS in East Asia"
PANEL2:"Sustainable Transportation – Toward Invulnerable System Against Disaster"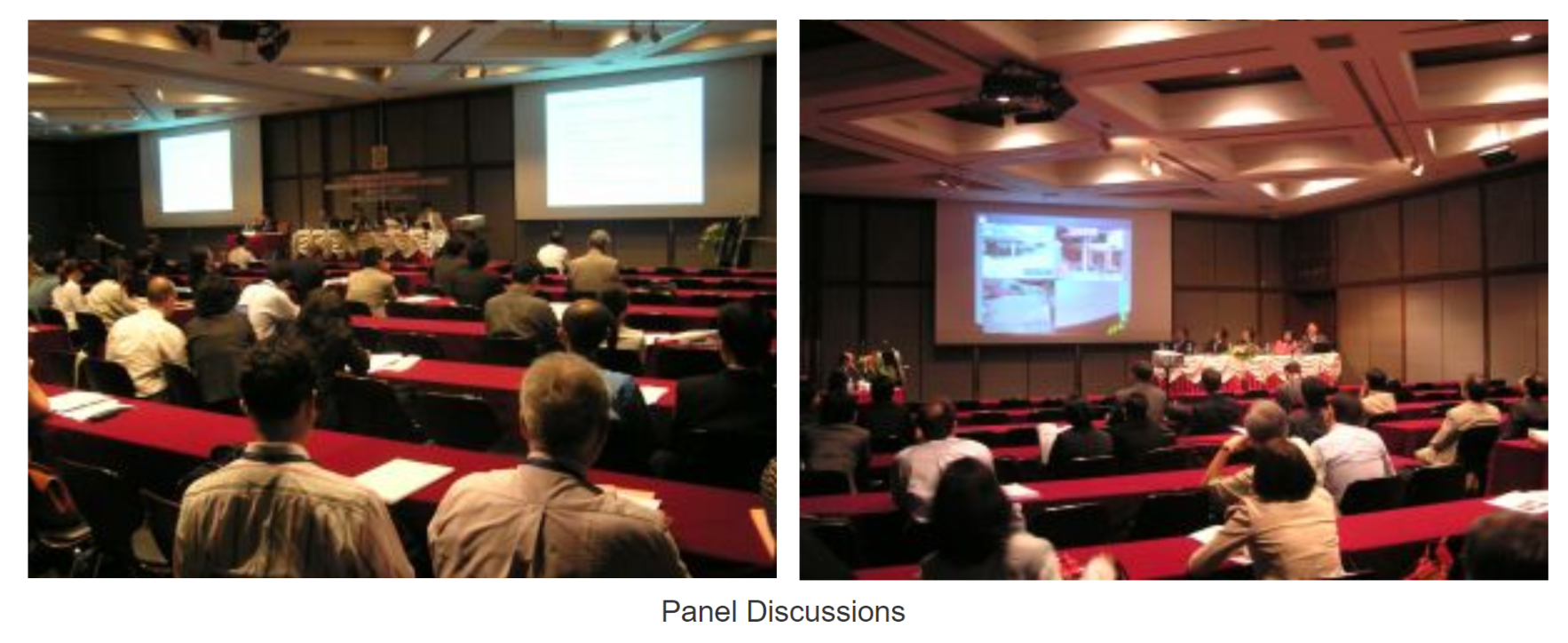 Board Meetings and Representative Assembly:
Board Meetings were held four times during this conference (20-23, September).
Representative Assembly was held on 21, September.
Technical Visits:
1)Thailand First Underground Mass Rapid Transit System
2)New Bangkok International Airport: SUVARNABHUMI
3)Industrial Ring Road, Bangkok

AWARDS

+++Outstanding Paper Awards+++

Yasoshima Prize
"Evaluating Sustainability of Urban Development in Developing Countries Incorporating Dynamic Cause-Effect Relationships over Time",
by Akimasa FUJIWARA, Junyi ZHANG, Backjin LEE, M.R.M. DA CRUZ
Outstanding Paper Award
"Street Space Renaissance: A Spatio-Historical Survey of Two Asian Cities",
by Iderlina Mateo BABIANO, Hitoshi IEDA
"Impact of Road Pricing on the Network Reliability",
by K.S. CHAN, William H. K. LAM
"Equitable network design", by Richard CONNORS,
Agachai SUMALEE, David WATLING
"Evaluating Public Transit Congestion Mitigation Measures using a Passenger Assignment Model",
by Hiroshi SHIMAMOTO, Fumitaka KURAUCHI, Yasunori IIDA, Michael.G.H.BELL, Jan-Dirk SCHMOCKER
"Analysis of Policy and Regulation on Build-operate-transfer Scheme: A Case Study of the Banong-Kanchanaburi Motorway in Thailand",
by Kitti SUBPRASOM, Anthony CHEN
"A Study on Emergency Evacuation and Rescue Network Reconstruction for Natural Disasters with Multi-Class Users Travel Behavior Constraints",
by Chung-Yung WANG, Shou-Ren HU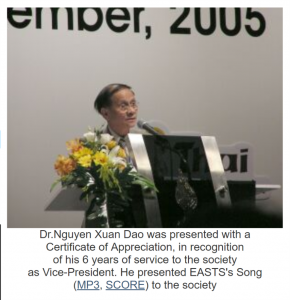 +++Outstanding Tranportation Project Award+++
"The Minatomirai Subway Line", Yokohama, Japan
——–
Nominees:
1. The Second Freeway Project in Taiwan
2. The Kyushu Shinkansen (High Speed Train) in Japan
3. The Minatomirai Subway Line in Yokohama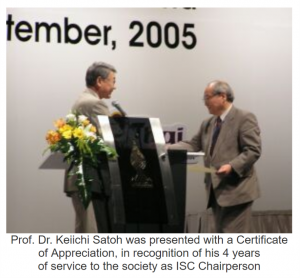 +++Best Tranportation Landmark Photo Contest+++
1st Prize
Name: Sigit Wahyuprasetyo
Title: Effect of BRT
Description: Who will be the loser? (in Jakarta)
2nd Prize
Name: Hu Qionghong
Title: Ready, Steady, Go!
Description: Waiting for greenlight at the intersection is just like a motorcycle race. All riders are both competitors and spectators.Take care! Safety is most important. (in Vietnam)
3rd Prize
Name: Gloria P. Gerilla
Title: Bike Lanes = 1/2 of a one-way vehicle lane
Description: More space for bicycle traffic promotes a sustainable and liveable city. (in Japan)

+++Best Domestic Society Award+++
Korean Society of Transportation (KST) (Korea)
Korean Society of Transportation (KST) was adjudged best domestic society. KST met the criteria set by the board more than any other domestic society.
VENUE OF THE NEXT CONFERENCE (2007)
The 7th conference will be held in Dalian, China in 2007. The Society of Transportation & Logistics, CCTA, will host the event.
AMENDMENT OF CONSTITUTION
Classification of Membership
– Member Society: 4 categories –> 5 categories
– Individual Annual Due: US$20 per year
for more info, see here
SELECTION OF THE RESEARCH PROJECTS FOR ICRA 2005-2007
The following two research projects were selected as grantees of ICRA (International Cooperative Research Activity) 2005-2007 through the strict examination by ICRA selection committee and the approval of the board.
Research Period
Principal Researcher
Research Project Title
2005-2007
Dr. Dilum Dissanayake
(University of Newcastle upon Tyne)
Inter-regional Valuation of Transport Safety and Exploration of Social Attitudes towards Safety Improvements Considering Southeast Asian Cities in China, Malaysia, and Indonesia: Comparative Investigation of WTP Vs Traditional Gross (Net)-Output Methods
2005-2007
Dr. Yoshi Hayashi
(Nagoya University)
Dynamics of Poly- centric Employment Formation in East and Southeast Asian Cities
for more info, see here
NEW INTERNATIONAL RESEARCH SCHEME
IRG (International Research Group)
The EASTS Board in its meeting during this Conference, launched the international research group (IRG) scheme.
for more info, see here

NEW OFFICERS
President:
Mr. Shigeru Morichi (JAPAN)
1st Vice President:
Mr. Yordphol Tanaboriboon (THAILAND)
2nd Vice President:
Mr. Derong Wang (CHINA)
Treasurer:
Mr. Haruo Ishida (JAPAN)
Secretary General:
Mr. Tetsuo Yai (JAPAN)
Board of Directors:
Mr. Michael A. P. Taylor (AUSTRALIA)
Mr. William H. K. Lam (HONG KONG)
Mr. Bambang Susantono (INDONESIA)
Mr. Kyung Soo Chon (KOREA)
Mr. Khanngeun Khamvongsa (LAO PDR)
Mr. Mohamed Rehan Karim (MALAYSIA)
Mr. Chris Kissling (NEW ZEALAND)
Mr. George D. Esguerra (PHILIPPINES)
Mr. Tien Fang Fwa (SINGAPORE)
Mr. Cheng-Min Feng (TAIWAN)
Mr. Nguyen Xuan Dao (VIETNAM)
Directors-at-Large:
Mr. Hajime Inamura (JAPAN)
Mr. Chang-Ho Park (KOREA)
Mr. Jinn-Tsai Wong (TAIWAN)
President Emeritus:
Mr. Hideo Nakamura (JAPAN)
Former President:
Mr. Primitivo C. Cal (PHILIPPINES)
Chair of Membership
Committee:
Mr. Chang-Ho Park (KOREA)
Chair of Best Transportation
Landmark Photo Contest:
Mr. Michael A.P. Taylor (AUSTRALIA)
Chair of Outstanding
Transportation Project Award:
Mr. William H.K. Lam (HONG KONG)
Chair of Best Domestic
Society Award:
Mr. Mohamed R. Karim (MALAYSIA)
Chair of International
Scientific Committee:
Mr. Hitoshi Ieda (JAPAN)
Officer for International
Citation Indexes:
Mr. Kazu Miyamoto (JAPAN)
Officer for Finance
Reconstruction:
Mr. Chang-Ho Park (KOREA)