CONFERENCE OVERVIEW
The 9th EASTS Conference was held in ICC Jeju, Korea on 20-23 June 2011.
The conference attracted 663 participants including 71 students and 330 oral plus 96 poster papers were presented covering all fields of transportation.
The Conference Committee and Local Organizing Committee in Korea did an excellent arrangement to attain the success of this conference. This conference provided all participants with good opportunities to enrich their professional knowledge and to experience the wonderful culture in Jeju island.

Keynote Lecture 1:
"Green Growth & New Normal in Transport",
by Dr. Hwang Kee Yeon, President of the Korea Transport Institute
Keynote Lecture 2:
"The Asian Road Safety Challenge: How Many Lives Can We Save in the Decade?",
by Prof. Pichai Taneerananon, Center for Road Safety Research, Dept of Civil Engineering, Prince of Songkla University
Special Technical Sessions:
– Korea Special (1): Transportation and Tourism in Jeju
– Korea Special (2): Railroads, Roads and Bicycle in Korea
– 3.11: What the East-Japan-Great-Earthquake brought about?
– IRG 02: International, Interregional, and City Logistics Research Group in Wide Variety of Asian Region
– IRG 05: Culturally Sensitive Pedestrian-centric Philosophy to Advancement of Urban Form in East Asia
– IRG 10: Sustainable Neighborhood Transportation to Improve the Quality of Life in Developing Cities
– IRG 13: Improving a tour travel demand forecasting method for Asian countries
– IRG 15: Sustainable Transport Futures for Cities in Asia and the Pacific
– IRG 16: Intercity Transport in Asian Countries (ITAC)
>> For more detailed information regarding academic/practical papers, keynote speech etc, please see the website of International Scientific Committee (ISC)


Technical Tour:
1)East Coast (Half day)
ICC Jeju – Jeju Stone Park – Smart Grid Showroom – Airport
2)East Coast (Full day)
ICC Jeju – Smart Grid Showroom – Lunch – Jeju Stone Park – Airport
3)Smart-Eco Tour (Full day)
ICC Jeju – Olle Trekking – World Automobile Jeju Museum –
Lunch – Smart Grid Showroom – Seongsanilchulbong – ICC Jeju
Board Meetings and Representative Assembly:
Two Board Meetings and one Representative Assembly were held during this conference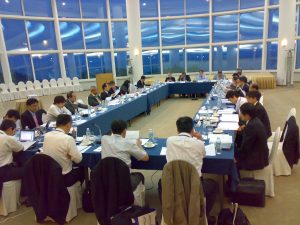 BEST PAPER AWARDS
"Development of Proposed Performance Grading System for Asphalt Binder Used in Thailand"[Yasoshima Yoshinosuke Prize]
by Nattaporn CHAROENTHAM and Kunnawee KANITPONG, Asian Institute of Technology, Thailand
[Best Paper Awards]
1. Best paper award for enlightening Asia-specific topics
"An Exploratory Study on the Feasibility of Electric Jeepneys as a Public Transport Mode"
by Jose Regin F. REGIDOR and Ma. Andreilyn M. ESPIRITU, University of the Philippines, Philippines
2. Best paper award for discovering interesting facts
"Empirical Analysis on the Effect of Gross Vehicle Weight and Vehicle Size on Speed in Car Following Situation"
by Ahmad SAIFIZUL Abdullah, Mohamed Rehan KARIM, Hideo YAMANAKA and Masashi OKUSHIMA, University of Malaysia and University of Tokushima
"A Study on Influences of Long Tunnel Landscape Images on Driver Response through Virtual Driving Experiment"
by Joohee KIM, Soobeom LEE, Jiyeon HONG, Joonbum LIM, Byung Keum SONG and Wonchul KIM, University of Seoul, Korea
3. Best paper award for technological innovation

Yasoshima Yoshinosuke Prize
4. Best paper award for institutional innovation
None
5. Best paper award for theoretical development
"Optimal Locations of License Plate Recognition to Enhance the Origin-Destination Matrix Estimation"
by Yu-Chiun CHIOU, Lawrence W. LAN, Chun-Ming TSENG and Chih-Chao FAN, National Chiao Tung University, Ta Hwa Institute of Technology and Feng Chia University, Taiwan
"Optimization of Housing Allocation and Transport Emissions Using Continuum Modeling Approach"
by Jun YIN, S.C. WONG and N.N. SZE, The University of Hong Kong, Hong Kong
6. Best paper award for methodological development
"Impact Analysis of Work Zone Configuration, Traffic Flow and Heavy Vehicle Percentage on Traffic Delay at Work Zones"
by Qiang MENG and Jinxian WENG, National University of Singapore, Singapore
"Exact Solution for Vehicle Routing Problem with Soft Time Windows and Dynamic Travel Time"
by Ali Gul QURESHI, Eiichi TANIGUCHI and Tadashi YAMADA, Kyoto University, Japan
7. Best paper award for best application in practices
"Future Forecast of Trade Amount and International Cargo Flow in the APEC Region: An Application of Trade-Logistics Forecasting Model"
by Ryuichi SHIBASAKI and Tomihiro WATANABE, National Institute for Land and Infrastructure Management, Japan
8. Best paper award for difficult research accumulations
None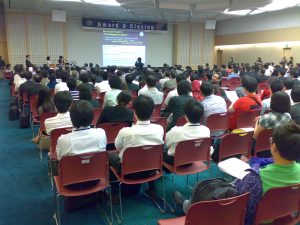 For more detailed information, please see the website of International Scientific Committee (ISC)
OUTSTANDING PRESENTATION AWARD
[oral presentation]Outstanding Presentation Award is presented to;
HALLIZZA ASLI, Peng CHEN, Borith LONG, Kazuya YAMASHITA, Wataru YAMAMOTO, Biying YU
[poster presentation]
Wael K.M. Alhajyaseen, Chi-Yen Lai, Makoto FUJIU
OUTSTANDING TRANSPORTATION PROJECT AWARD (OTPA)
Key Merits* Journey Time Indication System in Kowloon, Hong Kong
-Social and Transportation Impact
An influential system not only enables to alleviate the serious traffic problem, but can also save the economies loss.
-Method/Technology of Construction
High accuracy level in capturing the data for real time journey time estimation.
-Financing and Management
Managed by Autotoll, completed within budget and the programme with a safety record.
-Uniqueness
Built up 10 traffic monitoring station (TMS) equipped with AVI tag readers for the input to estimation system.
(Three projects are nominated: 1)Improvement Project for Customs Facilities in Dansavanh, East-West Economic Corridor, Lao PDR, 2)Journey Time Indication System in Kowloon, Hong Kong, 3)Taipei Intelligent & Multipurpose Intercity Bus Stations, Taiwan)
BEST DOMESTIC SOCIETY AWARD
(more info)
* EASTS-JAPAN
SELECTION OF THE RESEARCH PROJECTS FOR ICRA
Note: EASTS will call for the application for ICRA also in the next year 2012.The following research project were selected as grantees of ICRA (International Cooperative Research Activity) 2011-2012 through the strict examination by ICRA selection committee and the approval of the board.
| | | |
| --- | --- | --- |
| Research Period | Principal Researcher | Research Project Title |
| 2011-2012(ICRA-B) | Upali Vandebona, University of New South Wales, Australia | Culturally sensitive pedestrian-centric philosophy to advancement of urban form in East Asia (by IRG-05-2005) |
for more info, see here
 IRG (International Research Group)
*New IRGNow, eight IRGs are operating and there were total six Special Sessions in this conference. Over 100 EASTS members are joining IRGs.
"Logistics in Asia"
-Headed by Tetsuro Hyodo (Japan)
-Other 30 researchers from 8 countries
for more info, see here
VENUE OF THE NEXT CONFERENCE (2013)
Chinese Institute of Transportation (CIT) will host the event.The 10th conference will be held in Taipei, Taiwan in 2013.
NEW OFFICERS FOR THE NEXT 2 YEARS
President:
Mr. Cheng-Min Feng (Taiwan)
1st Vice President
Mr. Pichai Taneerananon (Thailand)
2nd Vice President:
Mr. Seung-Young Kho (Korea)
Treasurer:
Mr. Kee Yeon Hwang (Korea)
ISC Chairperson:
Mr. Akimasa Fujiwara (Japan)
(after publishing the journals for this conference)
Secretary General:
Mr. Tetsuo YAI (Japan)
Mr. Wen Long Yue (Australia)
Mr. Chhouk Chhay Horng (Cambodia)
Mr. Derong Wang (China)
Mr. William H. K. Lam (Hong Kong)
Mr. Danang Parikesit (Indonesia)
Mr. Haruo Ishida (Japan)
Mr. Bounleuam Sisoulath (Lao PDR)
Mr. Mohamed Rehan Karim (Malaysia)
Mr. Asralt Buyantsogt (Mongolia)
Ms. Khin Than Yu (Myanmar)
Mr. Chris Kissling (New Zealand)
Mr. Crispin Emmanuel D. Diaz (Phillipines)
Mr. Tien Fang Fwa (Singapore)
Mr. Wucheng Chen (Taiwan)
Mr. Tran Tuan Hiep (Vietnam)
Directors-at-Large:
Mr. Hitoshi Ieda (Japan)
Mr. Jason Chang (Taiwan)
Mr. Kyung Soo Chon (Korea)
Ex-Officio Members
President Emeritus:
Mr. Hideo Nakamura (Japan)
Former President:
Mr. Primitivo C. Cal (Phillipines)
Mr. Shigeru Morichi (Japan)
– Board of Directors
– Committee Chairs
Chair of Outstanding
Transportation Project Award:
Mr. William H.K. Lam
Chair of Best Domestic
Society Award:
Mr. Danang Parikesit
Chair of Membership Committee:
Mr. Derong Wang
Chair of Best Presentation
Award:
Mr. Wen Long Yue
Chair of ICRA Selection:
Mr. Haruo Ishida
Secretariat Office of EASTS,
easts [at] easts.info